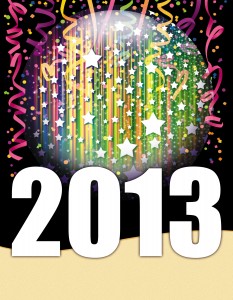 This is the most exciting time of each year, the beginning of a New Year!  A time when people are writing their  New Year's Resolutions.  During the beginning of the year is always a great time because people are determined to do more with their life.  It's so wonderful that we have this self examination every year.  We are forced, if only for a moment, to think about the things we would like to do differently in the upcoming year.
The best way to make sure that you keep your New Year's Resolutions is to reflect first on the previous year.  In a previous post I reminded you that you must first thank God for all he has done for you and then think about what you would like to do differently this year.  When we acknowledge all of the ways God has blessed us we are showing the Lord that we are grateful for a new year. Here are 3 simple ways to keep your New Year's Resolutions.
1. Reflect With A Thankful Attitude– Most people immediately begin to think about what they want to change or do differently.  How can you have a clear picture of what you need to do differently if you don't reflect on how things went last year.  People who do not reflect are bound to repeat the same mistakes.  Reflecting reminds us of what we did AND how we did those things. 
Once you know what you did then you can prepare a strategy to do better in the new year.  It is best to begin each year by reflecting on the previous year with a thankful attitude and then think about the things that need to change in the new year.  Make a list of the many ways the Lord has been good to you.  Begin by answering the questions below.
What has the Lord allowed you to accomplish last year? 
How has the Lord been a covering to you in the previous year?
2. Pray – If prayer is not a part of your daily routine you need to make time for it.  I have found that the best time to pray is in the morning before I do anything else. Before Jonathan or the kids wake up, while the house is still quiet, I can pray and prepare mentally for being the best wife and mother for that day.
The morning is ideal because it gives the Lord a chance to give us our marching orders before we begin the day.  I have also found that praying in the morning gives me more peace, more focus, and allows me to get more done.  There truly is no better way to begin your day.  The holy spirit will rest on you the entire day.  In Lamentations 3:22-23 the bible says "his mercies are new every morning". We need to pray and ask for his mercy and direction. Praying in the morning is great but it can be a little challenging because the house is so quiet it is possible to fall asleep while praying.  A few tips for praying in the morning.
Stand while praying– I know it is ideal to lay prostrate on the floor and pray but to avoid falling back to sleep, stand up.  You can stand in front of your children's room and place your hand on their door while you are praying for them.
Pray with your eyes open– instinctively we close our eyes when we pray but when we are tired we should avoid closing our eyes.  I know a lady who looks at a photo of each person she is praying for while she is praying.  Have a picture close by of your loved ones and look at their photo while you are praying for them.
3. Make a Plan– Once you have reflected on the previous year and have made prayer a part of your routine ,  now it is time to make a plan.  In James 2: 14-16 the bible tells us "faith without works is dead."  So we need a plan.  Use  these five questions to make a plan.
What – what do you want to do differently this year?
Why– Why do you want to change that area of your life?  If you do not know why you want to change, you will not be able to stick with it.
Who– research says that people accomplish more of their goals if they have a partner.  Who can you get to be a part of your New You!
When– What will your routine be with your partner to assure that you stick with it.  For example, if you desire to exercise more and you have found a partner, the next step is to select a time and place of when the two of you will exercise.  Here is an additional tip for having a workout partner.
It is best to have multiple workout partners.  Everyone has good intentions but everyone's determination to see change may be different.  If you truly desire to exercise more you will need to workout with a group of people. When you workout in a group the chances of everyone not feeling like working out on the same day is slim.
How– How often do you want to work on this goal? I will stick with exercise because that is the most popular new year's resolution, how often do you plan on working out with your workout partner?
Challenge:  Take this week to reflect, pray and make a plan.  There is a reason why the Lord allowed you to enter into a new year. If you do your best to make the most out of this new year, He will bless your effort.