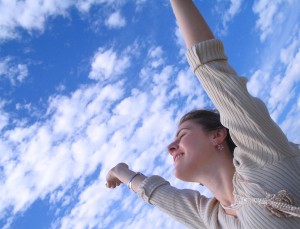 Is fear holding you back from fulfilling your purpose?  When I was young I would sing in the church choir.    I was never nervous about singing in front of people as long as we did it as a group.  The minute I had to sing by myself I would become very fearful my stomach would be unsettling, my hands would shake, and I suddenly couldn't sing as loud.  I was fearful of singing in front of people for most of my childhood.
Now that I am older, married with children.  I found myself wanting to be more involved in our church but there was nothing for my age group.  With the blessings of my pastor, we started a group for the middle aged people in our church called the Young Adult Network (YAN).  We even formed a choir!  I enjoy singing, however, I haven't been a  part of a choir since High school.  We formed a choir at the request of another YAN member.   I soon realized that the YAN members were also fearful of singing solo's in front of the church.  I found myself in a situation where I either needed to take the lead or be satisfied with not being a part of the church service.   The word tells us in 2 Timothy 1:7
"For God hath not given us the spirit of fear; but of power, and of love, and of a sound mind."
I knew that I needed to get over my nervousness if we were going to be effective at ushering in the holy spirit .  I often listen to T.D. Jakes, a television evangelist.  During one of his sermons he spoke about some advice given to him for overcoming his struggle with smoking cigarettes.  His mentor told him " I believe the Lord is going to take you a mighty long way ,and that sure is a small thing to let stand  between you and where the Lord wants to take you."  When I heard that advice I started to use that same statement to encourage myself in my walk with the Lord.  The other members of the Young Adult Network were depending on me to lead them, with the Lord's help, I have been able to lead them with the best of my ability.
There were three techniques I used to rid myself of the fear of taking the lead.  I used power, love, and a sound mind to overcome my fear.  Hopefully as you apply the same techniques you too will find yourself in a life without fear.
1.  Take The Power Away From The Fear– Imagine yourself overcoming your fear and ask yourself a few questions. What could you be accelerating in if you were not fearful?  Whatever you are  afraid of you must take the control back.  I realized, that if I didn't overcome my fear the Lord would not be able to use me.  Study the word to find out what God says about the area in your life you are struggling with and then bathe your soul in scripture that will encourage you to get the victory over it.
2. Love Others More Than You Love Yourself–   " When someone has been given much, much will be required in return; and when someone has been entrusted with much, even more will be required." Luke 12:48  The blessings that we have are not for us but for the glory of God.  Who would benefit from you overcoming your fear?
3. Discourage Negative thinking By using Scripture To Ensure A Sound Mind–  What are you telling yourself that is causing you to be fearful? Allow yourself to  become  more God conscious and less self conscious.  When we are more concerned about  God's name we will find that we are less concerned about our own name and what people may think about us.  Once I realized who I was singing for the fear of how people would receive my  singing  was no longer a concern to me.  Our thoughts have the ability to encourage us or hinder us.  Talk to yourself–  speak confidence to your mind. Speak scriptures such as these to your soul :
"I can do all things through Jesus Christ who strengthens me."  Philippians 4:13

"What is man that I should be mindful of him." Psalms 8:4

"If God be for me, who can be against me?"  Romans 8:31

"For I know the plans I have for you," declares the LORD, "plans to prosper you and not to harm you, plans to give you hope and a future." Jeremiah 29:11
Challenge:  Is fear holding you back from what you want to do? "For God hath not given us the spirit of fear; but of power, and of love, and of a sound mind." 2 Timothy 1:7  Understand that fear is a spirit that is not from the Lord.  The enemy cannot stop you from fulfilling your purpose but he can invoke fear.  You must decide that  " greater is he that is in you, than he that is in the world." 1 John 4:4  Trust the Lord and use the power, love, and a sound mind to overcome your fear.  I believe the Lord is going to take you a long way, is what you fear worth holding you back from where the Lord wants to take you?