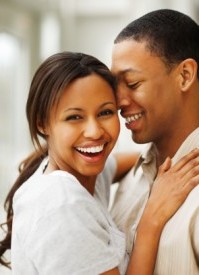 There are two major decisions we will make in our life that have the potential to affect us long term; who will be our God and who will be our mate. Sadly enough, many people view being married and being a Christian as a life with restrictions and lack of excitement.  In John 10:10 Jesus said, "10 The thief comes only in order to steal and kill and destroy. I came that they may have and enjoy life, and have it in abundance [to the full, till it overflows].  It was never Gods intention to take from our lives; He desires only to make our lives better.
The things we consider to be restrictions are actually Gods way of protecting us from what will ultimately destroy us.  We must understand that being married is a blessing and is also Gods way of providing a covering for us. We can better understand the importance of two people working together by reading this scripture.
Ecclesiastes 4:9-12
9 Two are better than one because they have a more satisfying return for their labor; 10 for if [a]either of them falls, the one will lift up his companion. But woe to him who is alone when he falls and does not have another to lift him up.11 Again, if two lie down together, then they keep warm; but how can one be warm alone? 12 And though one can overpower him who is alone, two can resist him. A cord of three strands is not quickly broken.
Similarly to being married, being a Christian was designed to be a benefit to us. Have you ever heard the saying there is power in numbers?  The more people you have in agreement with you, the more you can get accomplished.  God intended for us to be able to work together on one accord in a way that glorifies Him. We are reminded of the significance of gathering together as believers in Hebrews 10:25
25 not forsaking our meeting together [as believers for worship and instruction], as is the habit of some, but encouraging one another; and all the more [faithfully] as you see the day [of Christ's return] approaching.
Being married and being a Christian are similar in that God design both of them as a way to make our lives better.  These are the two biggest decisions we will ever make, so how can we make sure that we live an abundant life for the path we have chosen?  Here are 4 tips to help us enjoy our Christian Marriages.
Change Your Perspective– Stop viewing marriage as something that holds you back from enjoying your life. Marriage is fun and is very fulfilling, even more so, when you learn how to become best friends with your spouse. Decide to see marriage as a way to enhance your life not as something that constrains it.  Choose to seek out all the possibilities available to you as a Christian couple.
Know Your Purpose– When you decide to get married that becomes a big part of your purpose BUT that is not your only purpose. If you are unsure of why you were created please read my article What Is My Purpose? This article will help you understand  why you were created.  Also, I have recently read two books that I highly recommend for helping you to figure out your purpose.  Bishop T.D. Jakes is the author of both books entitled  "Instinct" and "Destiny." Bishop T.D. Jakes offers practical tips to finding out why you were created.  Just because you get married does not mean you have to lose yourself.  Getting married means now you have someone to share your purpose with.  Include your spouse in the things you are interested in doing.  Chances are two of you enjoy doing different things.  Having different interests is great for your marriage.  This helps to keep your marriage fresh and exciting as you both participate in each other's hobbies.
Be Solution Oriented– It is way too easy to say what is wrong with your Christian marriage. Offer suggestions for ways you can improve the marriage.  Act on what you believe will enhance the marriage.  Do not wait for your spouse to offer change.  Change may never come.  You can only control you!  Take the first step toward change in your marriage.
Have Patience– Your marriage did not get broken over night, so do not expect it to be fixed over night. There is no quick fix for improving your marriage.  Take it one day at a time.  Allow your spouse time to adjust to your desire for change.  Remember, you have been thinking about change for some time now.  It is good that you have finally decided to act on your desire for change, however, give your spouse some time to come into agreement with you.
www.Chrisitianhomeschoolhq.com Challenge: Marriage was never meant to feel like a prison. God intended for marriage to complete us in the areas we are broken.  We must understand that  being Married, But Not A Team defeats the purpose of marriage.  When we work together as a team that is when we are most effective.   I ask you the same question Jesus asked the blind man in John 5:6 "Wilt thou be made whole?"  Have some faith in your marriage. Your marriage can and will get better as long as you are willing to work at it.