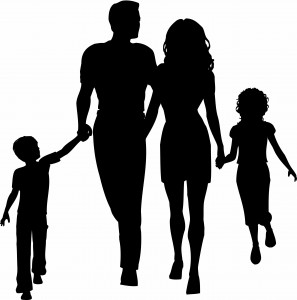 Celebrating Valentine's Day with your children is not ideal, however, it is the reality for many couples who wish to celebrate it on February 14th.  Celebrating Valentine's Day with your children does not have to be a bad thing. We can use this opportunity to give our children a firsthand look at love in the Christian marriage.  We are instructed in Proverbs 22:6 to " Start children off on the way they should go, and even when they are old they will not turn from it."   We are instructed to train our children in the ways of the Lord, this includes showing our children how to love one another.
It may mean more planning but you gain so much as a family by bringing your children along on your date.  When you make your children a part of your Valentine's Day you will create a memory that will last a life time.   You may not think it means much but it does.  I still remember when my father came home on Valentine's Day one evening with a beautiful scented fake flower for my sister and me.  It was completely unexpected and it made me feel so wonderful inside!
So what can you do to make sure that Valentine's Day becomes a memorial day for the entire family?  Before I offer my tips to having a great and romantic Valentine's Day with the kids, I want to say DO NOT ALTER YOUR EVENING FOR THE KIDS.  Plan to do exactly what you intend to do, only adjust your date where it is needed for obvious reasons like, children are not allowed in the restaurant.  Still plan to have a romantic dinner at a beautiful restaurant.  It is possible to have a nice cozy dinner with the kids.  Here are 4 tips to having a great Valentine's Day with your children.
1.   Include The Children– Were you hoping to have chocolate covered fruit for you and your husband to share later on?  Allow the kids to help you dip and store the fruit.  Allow them to eat a couple of pieces as a reward for helping.  Store the rest away as a romantic treat for you and your spouse later on once the kids are in bed!
2.  Have The Children Dress Up-  Over the course of my school days  I heard varies teacher suggest that dressing up on test days helped improve test scores.  They believed that when you looked nice you had more confidence in yourself which meant that you would doubt yourself less and do better on an exam.  I also believe to a certain extent that the way we dress can influence our behavior or outlook.  The children will enjoy dressing up and it sets the tone that this is a special evening.
3.  Give The Kids A Light Meal At Home-  If you feed the kids a little at home they will not be as hungry at the restaurant.  This is especially important if you plan on eating at a restaurant where the food is more of a fine dining.  The last thing you want to happen is to be at a nice restaurant and the kids are complaining about being hungry because they do not like what they ordered.  If you feed them a little at home it curves their appetite and cuts down on the cost of the overall bill! The kids will be able to split a meal since they will not be as hungry.
4. Save The Alcohol For Later- Just because your children are going to be spending Valentine's Day with you and your spouse that doesn't mean that you cannot have any alcohol.  What it means is that you must save it for later once the children are in bed.  After you lay the children down you can take the alcohol and the chocolate covered fruit to your room and end the evening on a happy and sweet day.
Challenge:  Include your children in your Valentine's Day Celebration.  You may decide to have two separate dates, one for your marriage and one as a family but whatever you do allow your children to be apart.