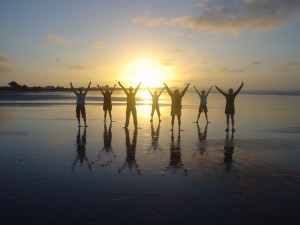 Most people need a major event to occur in order for them to have awake up call. For example, a lost of a loved one, failing health, or a near death experience.  The Lord loves us so much that he will do whatever it takes to get our attention.  We determine just how far the Lord has to go before we yield to him.
How long will it take you to trust God and to know that His way is better?  Some, it may only take a few days, others it may take months or even years of running from the Lord.  Well, today the Lord gave me a word for you from Deuteronomy 2:3 "You have made your way around this hill country long enough; now turn north."
Some of you have been feeling out the Lord to see if He is really someone you can follow.  The Lord is saying, by now, you have your answer, " Now turn north."  The Lord knows everything about us, everything. He knows what we are really seeking after and He is willing to allow us to search,  if the end result will cause us to repent and say I yield, I yield.  Today, however, the Lord has said your time of inquiry is up. You must choose this day for yourself, whom you will serve.
We cannot have our feet in both camps, the Lords says in Matthew 12:30, "Whoever is not with me is against me, and whoever does not gather with me scatters."  You have the choice today, which could be your last day, to choose God as your Lord and savior. I would hear my mother say on occasion, "Are you stuck on stupid?"  Well today I say to you, don't be stuck on stupid. The Lord is giving you an opportunity to repent and follow Him, heed to his warning. I am going to send a prayer up for you right now.
Dear God,  I do not know who this post is for but you do.  I thank you for allowing me to see another day, and for giving me the opportunity to be used by you to potential restore one of your chosen vessels.  I pray that you will remove the fear and pride from this person so that they can be free to worship you.  I pray that your peace and compassion will fill their heart until they have no choice but to give their life to you. I pray that they will see how much you love them and how much you desire for them to be blessed.  Speak to the heart of everyone who reads this post. In Jesus Christ name I pray. Amen.
Challenge: Are you strong enough to admit that you were wrong?  God's way is better!  He is giving you another chance to repent and make Him the Lord of your life. Will you repent while is grace and mercy is available to you?