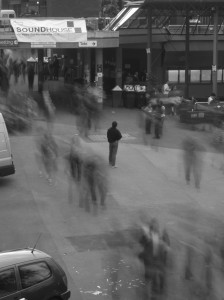 " The LORD said, "Go out and stand on the mountain in the presence of the LORD, for the LORD is about to pass by."
   Then a great and powerful wind tore the mountains apart and shattered the rocks before the LORD, but the LORD was not in the wind. After the wind there was an earthquake, but the LORD was not in the earthquake.  After the earthquake came a fire, but the LORD was not in the fire. And after the fire came a gentle whisper. When Elijah heard it, he pulled his cloak over his face and went out and stood at the mouth of the cave.
   Then a voice said to him, "What are you doing here, Elijah?"  I Kings 19:11-13
God doesn't always speak to us in a flamboyant way, he may choose to speak in a subtle way just as He did to Elijah.  If we do not want to miss the Lords voice we must learn to be still and listen.  I have been feeling under the weather this past week.  On Friday afternoon I laid in pain on my bedroom floor as my stomach ached unbearably.  My body went from feeling hot and sweating one moment to cold and needing a blanket the next. I was in so much pain I cried out to God to remove the pain.  I then repented for being angry at Him for not moving fast enough with solving my problems.  As I laid on the floor  the Lord begin to bring a few things to my mind:
" God is not a man that he should repent, not a man that he should lie"  (Numbers 23:19)
What He says he will do, ultimately it will come to pass.
Trust the Lord, for just as quickly as your stomach turned sour so can God fix your problems.
" You can trust God for " He is the same yesterday and today and forever."  (Hebrews 13:8)
While my pain was subsiding I heard the Lord say " Be still and know that I am God."  God will hold everyone accountable for the things they have said, done and thought ( Romans 2:5-9).  Have peace in knowing that God will not allow your enemies to prevail over you.  In Jeremiah 1:19 the bibles says, " They will fight against you but will not overcome you, for I am with you and will rescue you, declares the Lord."  It doesn't matter how long you have been dealing with your problem, God can turn it around at any moment.
There was a woman with an issue of blood, the bible says that she bleed for 12 years(Mark 5:25-34).  However, the moment she grabbed his clothes and believed that He could heal her the bleeding stopped.  Do you realize that the thing your facing could be an after thought in a matter of seconds?  God could fix your problem right now!  So why doesn't He?  God must have a purpose for your suffering.  Ask the Lord  what He would have you learn out of your problem.  The problem your facing doesn't always have to be about the Lord trying to change you. God could be using your problem to minister to those who are watching your response to your problem.  Just know that God has the power to fix your problem and if he hasn't, then there is a reason he hasn't fix it yet.
A song writer wrote, " If you trust and never doubt, he will surely bring you out.  Take your burdens to the Lord and leave them there."  If you are living a life that is pleasing to God and yet you find yourself dealing with a harvest you haven't sowed, then trust that God has a purpose for your suffering and ultimately He will restore all that has been depleted from you ( I Peter 5:10).
Challenge: Trust that God has the power to fix your situation and if he hasn't there is a reason for it.  Submit yourself to the Lord in prayer and ask him, what you can do to bring HIS will to pass.