"A happy heart makes the face cheerful, but heartache crushes the spirit." Proverbs 15:13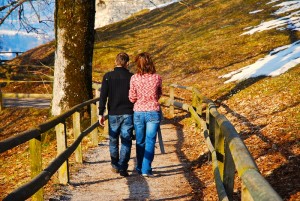 It is rare to see couples that are truly best friends even within a Christian marriage.  I realize that not everyone marries their best friend, so I would like to offer some techniques that have helped us become and remain best friends for so many years. So how do you become best friends with your mate? No doubt most of us have had a best friend or two.  Do you remember what made your best friend special to you? What did you do together? How often did you talk to them?
Becoming best friends with your spouse requires the same investment as becoming best friends with anyone else.  However, becoming best friends with your spouse offers additional benefits, a lifelong guarantee that they will always be there for you, a happy marriage, family, and great sex.  I speak from experience becoming best friends with your spouse will definitely carry the two of you when life occurs.
Here are four ways to becoming and remaining best friends with your spouse.
1.  Laugh at yourself– You have to be able to laugh at yourself when you make a mistake or say something that is incorrect.  When you can laugh at yourself, people in general will feel more comfortable around you. Don't wait for others to point out your error, embrace the fact that you are human, and laugh!
~ when you are poking fun at your spouse be sure to do so in a loving way. The idea is to create a relax atmosphere between the two of you, not to openly humiliate them.
2.  You have to open up and communicate with your spouse- Talking with your spouse about anything and everything is a sure way to draw the two of you together. Sharing your feelings will create a bond between the two of you
~ When your spouse offers comments or concerns about what you have shared, try to listen with an open mind. If you are the one who is doing the listening always comment on what they have spoken to you about, even if you do not care about the topic.  This let's your spouse know that you were listening and that you care about them and how they feel.
3.  Have sex frequently– Making love to your spouse is the ultimate bond between the two of you.  Physically, the two of you could not be any closer.  Emotionally, expressing your desires and hearing your spouse's desires will connect the two of you as you try to fulfill each other's needs and wants.
~ Be creative, making love to your spouse should be fun not work. This should be one area in your life that allows you to express yourself freely ,without any restrictions.
4.  Get active- People who are best friends, do stuff together!  Whatever the two of you are interested in try doing it together.  If you have no common interest, allow this to be an opportunity for you to learn more about your spouse.  Take an interest in your spouse and learn about the things they enjoy.
~ Alternate taking part in your spouse's hobbies. This will allow the two of you to spend more time together and will help you to learn more about who you have married.
Challenge:  Begin by selecting one of the four tips offered above and apply it today.  I would recommend that women initiate intimacy this evening and the men try to talk openly with your wife. You may choose which ever one you would like.  However, the largest compliant is usually the women do not initiate sex enough and the men do not listen to the women, so my recommendation would be to tackle that area first.