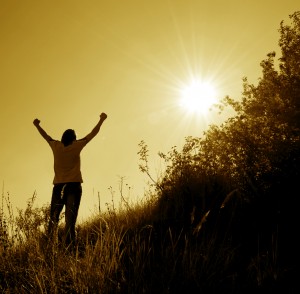 How has your Christian marriage been effected by the trials you are facing? Have you ever wondered where God is during your time of testing? When we are faced with trials and tribulations, we all tend to feel alone. During such times, we can be encouraged by the following Scripture verse. "Yea, though I walk through the valley of the shadow of death, I will fear no evil; For You are with me; Your rod and Your staff, they comfort me." Psalms 23:4  In our valley experiences, it is important to be able to stand on these verses of comfort, but make sure that you do not misinterpret them.
God never promised to take away our trials, but to be with us as we go through them.  If we stay close to Him, we will be comforted and our attitude about the situation should even be different from what you would expect.  Right?
During college, I realized that God will not always solve my problems as quick as I would like him.  Sometimes He wants to teach us that there is a better way of going through our trials.  I knew I wanted to be an elementary teacher before I even headed off to college. I enjoy teaching and being around children.  The gift of teaching feels so natural for me.  Well, my plan was go to college, get the associated degree, and teach. This plan sounds simple enough.  Doesn't it?
God's plans for our lives may be different than the ones we have for ourselves.
In college, I did well especially in my elementary education classes. During junior year, my colleagues and I began the series of teacher certification exams known as Praxis.  I was excited to take it.  My roommate took this exam and passed on her first attempt and many others as well.  I was confident I would pass on my first try as well.  I had studied extremely hard for it and I even had God on my side!
To make a long story short, I did not pass.  This certification was not a requirement for receiving  my education degree, but it would be necessary before teaching in any school. So I continued on with my education, periodically re-taking the Praxis. I graduated from college without my certification. I was heartbroken for a very long time and in fact, I became bitter for a while. I watched others party hard and seem to effortlessly pass this exam.  It was very difficult to witness those who were more interested in the "summers off" benefit enter the teaching profession before me.  For a while, I was even angry at God.  I thought, "Why aren't you allowing me to pass the exam?  I have always study hard for it and I would make a great teacher."
My focus began to change a little, as time went on, and I got married. After just nine months of married life, I was pregnant with our first child.  I attempted the exam one more time before we had our second child, but failed yet again.  The more I prayed to God, he begin to speak to me. The Lord said, "I am teaching you that there is a better way to go through your trials."
And you know what, it has all worked out for my good. I'm not a certified teacher yet, but I am still teaching.  I teach my three little ones daily.  If I continue to work diligently, I know that God will be with me and I will have my certification in His timing.  To be honest, I'm not sure I would of had children so soon if I had become a certified teacher. I was really focused on teaching.  God's plan for our lives supercedes our own plan.  I believe the Lord wanted my husband and I to have our kids early. Individually, I believe he wanted to teach me how to go through my trials better.  I am also better at seeking his face first during my trial, but I am still a work-in-progress at maintaining the attitude He desires for while "going through".  Isn't it challenging?
Challenge: Everyone has their own set of specific problems and decides how they personally will go through their trials. What are you facing right now? More importantly, how are you facing it right now? Remember, "Yea, though I walk through the valley of the shadow of death, I will fear no evil; For You are with me; Your rod and Your staff, they comfort me." Psalms 23:4