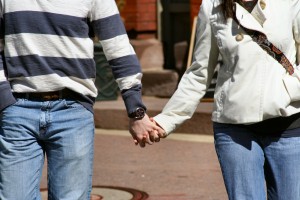 Being married is hard, but I believe that having a Christian marriage carries even more responsibility with it.
1.  We are aware that by getting married we have taken an oath to God that we will remain married "until death does us part".
2.  We are supposed to represent God well within our marriage so others may be saved or desire to do the right thing and marry as we have done.
But throughout our Christian marriages, we will need a little help in the tough or even mundane moments of marriage.
During this time, we may also find ourselves focusing on the negative parts of our marriage, but when we focus on negative, negative is what we will get.  The truth is, whatever we focus on gets bigger.  A better marriage begins with setting a goal for your marriage and knowing how to reach it.  The Bible instructs us to become what we want in the following scripture verse. "Let the weak say I am strong." Joel 3:10  I would like to offer two tips for reviving your marriage:
1. Speak positively over your marriage– Are you making positive declarations over your Christian marriage? Most of us have heard the popular Christian quote,"there is power in what you say." Why is it important to speak positively about our marriage? Whatever we speak will ultimately come to pass.  If you want to see your marriage get better, then you must begin to speak positively about it. We must stop focusing on the negative things and begin to think about and verbally express those things that are good in our marriage. What are you saying about your Christian marriage?
2. Laugh– You may be facing some tough times right now. We have all had times where we felt overburdened. During these times, we often may feel as though the Lord is not responding. The only way we get through tough times like this is to laugh and know that the Lord is working on our behalf.  Joyce Meyers, the television evangelist, once said,"We spend more time waiting for our miracle than we do receiving it.  So we have to get better at waiting for it." I agree with this statement, think about it. Have you ever wanted something badly and you had to wait and wait for it. When you finally receive it, you are thankful, but then you move on to the next thing you desire and have to wait on. Life is all about waiting. Are you waiting with a good attitude?
Challenge: Say at least two good things about your marriage today. Offer one positive statement to a friend, family, or even co-worker about your marriage. At some point today you are bound to stop and speak to someone, during your conversation say something positive about your marriage. Later on when you are around your spouse say to them, "You know what, today I was thinking about us and do you know what I love the most about our marriage? I love _______________!