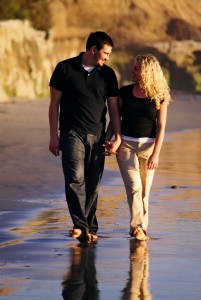 At a young age, we are trained to compete with others around us through many activities from sporting events and academic competitions to debate teams and social clubs.  How often have we found ourselves competing within our own Christian marriage? 
We compete with our spouses because we have not realized that we are on the same team.  Competition in any Christian marriage does not benefit either spouse.  Before my husband and I had our first child, we had already decided that whenever we had children I would stay home with them if possible.  I looked forward to staying home with my children.  My husband was a year ahead of me in college. When he finished school, we got married.  During my senior year, I got pregnant with our first child and I delivered her the week before my graduation.  Before I could even think about using my degree, I was already a stay-at-home-mom. 
It was great to be home with our daughter until I began to compete with my husband and others around me!  My husband is a very driven man.  After finishing his undergraduate degree, he immediately began to work on getting a master's degree.  I found myself feeling as though I was not as important because all I did was stay home with our daughter.  It took almost three years as a stay-at-home mom before I realized that we were united to be a married team.
My husband worked hard outside of the home and I worked equally as hard inside home, therefore our family unit was operating in full strength.  I am reminded of the scripture verse "Yes, the body has many different parts, not just one part."  I Corinthians 12:14  We may have different obligations within our home, but if we work together, our families will be able to accomplish all that God intends for our family.
 Challenge: Take a moment and focus on how you can help to improve your marriage.  What area in your Christian marriage could you help to develop so that your marriage can operate in full strength?