"You see that a person is justified by what he does and not by faith alone."  James 2:24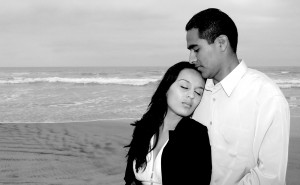 As Christians, sometimes we have a tendency of praying and believing that the Lord will just give us what we asked for.  No further effort required? But the Bible is clear, if we want our Christian marriage to work we have to pray and act.   Listed below are 10 tips that if you pray over your marriage and begin to apply them,  you will see an improvement in the quality of your marriage too.
1. Pray with each other and for each other– The best thing you can do for your marriage is spend time talking to God about it.  The next best thing is to pray with your spouse because prayer does something for your spirit that nothing else can. The bible says "where two or three are gathering in my name, there I will be also." Matthew 18:20
2. Do more things together– Find something that you both can enjoy.  Play a sport together, read the same book and talk about each chapter, work out together, or cook together.   As long as you both enjoy it, you can do anything together.
3. Touch each other more– Physical touch is very important for you and for your spouse.  Try to touch your spouse more, when they walk by reach out and touch their arm as they pass or sneak up behind them when they are washing dishes and give them a big hug.  Increase the amount of times you touch them and I bet you will see a difference in them.  They may even ask you, why did you touch me?  Or what was that for?  But just smile, and say I just wanted to touch you.
4. Take over a task that they would normally do– You do not have to do it all the time, actually it becomes more valuable when you only do it once in awhile. Who would not enjoy a break from a usual task?  It can be as simple as taking out the trash, washing the dishes, paying the bills (on time).
5. Laugh together– This may sound obvious, but you would be surprised at the number of married couples who do not laugh together.  Everything is always so serious or they just do not enjoy being around each other.
6. Talk to them– The average married couple only spends about 15 minutes talking to each other per day.  Whenever you get a chance to spend time talking to your spouse, try to keep the conversation as cheerful as possible.  At some point you will have to talk about serious things, but the good conversations should always outweigh the bad ones.
7. Send them love notes – It does not have to be a long letter, it can simply say I Love You and tuck it in their lunch box.  Try to be creative, stick the letter somewhere you know they will get it at some point throughout the day.  My husband and I play a game where we hide notes with the word SHMILY on it, in a place that we know the other person will find it.  We do this once in a while, just to spice it up.  SHMILY stands for See How Much I Love You.   It is a nice little reminder.
8. Ask your spouse what you could do to improve the quality of your marriage-The bible says " You have not, because you ask not."James 4:2 So ask your spouse, you may be over looking something that is very important to them.
9. Do a kind deed for them each day– Each morning ask your spouse, what can I do to make your life easier today?  And then do it or think of something yourself that you can do for them.
10. Start a couples bible study– If you need some help with topics or how to organize this you can go to www.Familylife.com.   This website offers study guides for married couples who want to have bible study with other couples.  The name of the study guides are called Marriage Builders.
Challenge:  Do not waste any time, ask your spouse, what you can do to improve the quality of the marriage.   Write down what they have suggested and begin to apply  it.  While you are following through with the suggestions your spouse made, spice things up a bit by periodically applying a few of the  other tips listed above.