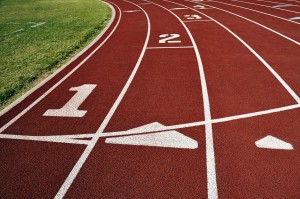 In our Christian marriages, the majority of the time that we worry about our health is when it is in poor condition.  We spend a good amount of time abusing our bodies through over eating, lack of exercise, and tons of pills.  If our body is the Lord's temple (and it is as written in the scripture verse below) then we need to stay healthy so we can continue to do His will.
"Do you not know that your body is a temple of the Holy Spirit, who is in you, whom you have received from God? You are not your own;  you were bought at a price.  Therefore honor God with your body."   1 Corinthians 6: 19-20
We limit just how much God can work through our Christian marriages when we are in poor health.  Finding time to exercise may be difficult to do, but not as much when it is a priority.  I say priority because everyone finds time to do the things they really want to do.  People workout for all kinds of reasons: to lose weight, to get healthy, for an event, and for other people, etc.
Although everyone has their own reasons for why they workout, there is one common benefit.  When you exercise, you increase your quality of life.  There are few physical limits for people who workout.  Exercising allows you to breathe better, be less tired throughout the day, and do more physically.  My husband has found that his asthma is even easier to manage with daily exercise.  Exercising allows you to focus your attention elsewhere instead of thinking about how tired you are, or how far away you have to walk to get to your destination, or wondering how many stairs you have to climb.
Being out of shape is no fun.  I have had three kids and the changes your body goes through during the pregnancy is similar to being out of shape.  For example, your body is more tired, your feet hurt sooner, your back hurts from all the weight pulling in your stomach area, and you have to buy clothes more often because your weight is constantly increasing.
If you would like to have a better quality of life, it begins with exercise.  Exercising is the door to more opportunities.  When you are in better health you feel better about yourself, you are more active, and have the energy to do even more for God.  The best thing about working out: you do not have to spend a dime.  The best form of exercise for beginners is walking.  This is a great form of exercise.  It allows you to go at your own speed, however long you want,  and it's free.  If you plan on walking daily I would suggest getting a good pair of walking shoes.  It makes your walk more enjoyable and absorbs the shock.
Statistics say that people who have a workout partner are more likely to stick with it and lose more weight. Ask your spouse to workout with you.  This will allow the two of you to improve the quality of your lives and will give you two a hobby that you can do together.  And the more you do together the closer you will feel toward each other.
Challenge:  Ask your spouse to join you on the road to a better quality of life.  Sit down with them and decide on a workout schedule and routine that will best suit your Christian marriage.