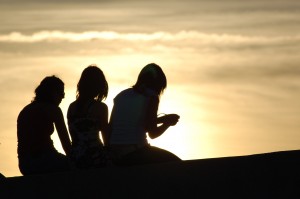 Who we choose as our friends has the ability to encourage or destroy our Christian marriage.  Just because someone is a Christian does not mean that they are safe for us and our marriages. There are different maturity levels in walking with God. When choosing friends, look beyond the fact that they profess to be a Christian. If you find that your marriage is in trouble or that you are spiritually weak as an individual, you will need someone that is able to encourage you.
"Let us not give up meeting together, as some are in the habit of doing, but let us encourage one another—and all the more as you see the Day approaching." Hebrews 10:25
My mother's health has recently taken a downward spiral. I was scared that I would lose her so I felt that I needed to be at the hospital as much as possible. My husband and I worked as a team. Before I would leave to go to the hospital, I would clean the house, feed the kids breakfast, and make lunch. I wanted to make his job as easy as possible. All he needed to do was to take care of the kids.
During this time of uncertainty, I was not in the mood to talk to anyone, but I did want people to pray for my mother. I sent a text message to everyone in my phone asking them to pray for her. I had recently became friends with Tracy, a married Christian woman. When she received my text, she immediately responded," I will pray for you and your mother." I only asked everyone to pray for my mother, but she was insightful enough to know that I would need prayer as well.

Shortly after Tracy texted me, I received a message from Sara. She responded differently to my text message. Her response was, " Oh my gosh Nikki, what happened?" Her response may not seem like a big deal but it was. I was not in the mood to talk I just wanted to pray and be there for my mother. However, Sara wanted to know all the facts before she would pray and that made me angry. When would I be able to 100 % concentrate on praying for my mother? In spite of my aggravation, I responded by saying " Please, just pray."
Later that evening I had an obligation at the church, I was a teacher for our Vacation Bible School. Despite my concern for my mother I made a commitment to be a teacher, so I needed to be at the church. When I arrived at the church, Sara was there and she managed to make me angry, yet again.   At first she said to me, "Oh my gosh, I thought you were talking about Mrs. Thomas," my mother-in-law, who is also the first lady of the church.
Once she realized that it was my mother, she was relieved to know that it was not my mother-in-law but rather my biological mother. Then she said " Oh, I will pray for her" as if my mother was not as important as my mother-in-law.
Tracy and Sara were people I talked to frequently. I believed that they were both people that would uplift me spiritually. However, since everything that has happened with my mother, I have re-evaluated my "friends". I found that Tracy is someone I want to remain connected with as prayer partners. On the other hand, I am still in contact with Sara, but I have changed the amount of time I spend around her. I have found that she can be more of a stress during my time of need than an actual benefit.
Challenge: How are your friends benefiting you and your Christian marriage? Make a list of all your friends. Evaluate how they have benefited you and your marriage. Begin to distance yourself from persons on this list that you know are not healthy for your Christian marriage.