"Above all else, guard your heart, for it is the wellspring of life" Proverbs 4:23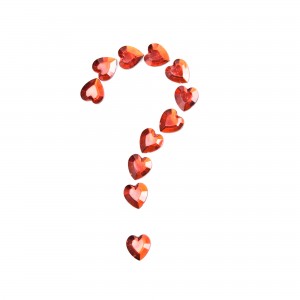 Who we love should be very evident within our Christian marriage, first the Lord and then our spouse.  It is very easy to tell what or who someone loves.  My father-in-law is a pastor and he often counsels couples who are planning to get married.  He tells all the couples the same thing, if you want to know where a person's heart is just look at where they spend their TIME and MONEY.  Because most people do not enjoy wasting their time or money, we usually use them on things we are interested in.  So I ask you to assess: Who do you love?  Are you spending your time or money on your spouse?  I can guarantee that if you are not spending either of those on your spouse, they do not feel like you love them.
Did you know that everyone has a certain way they need to feel love?  I read a book entitled "The Five Love Languages- How to express heartfelt commitment to your mate" by Gary Chapman, a GREAT book by the way!  In this book he reveals that everyone has a certain way they need to be loved and he believes there are only 5 unique ways to show love when deciding what your mates primary love language is.  The five love languages are:
1. Words of Affirmation– Through encouraging words– which literally means to inspire courage and through kind words-the way in which we speak to one another.  We have all heard the statement " It's not WHAT you say, it's HOW you say it.
2. Quality time– Through togetherness– Spending meaningful time together, focused attention.  Through quality conversation– taking the time to listen sympathetically to what your spouse has to say.
3. Receiving gifts– In order to buy a gift for someone they have to be on your mind.   A gift says I was thinking about you.  You can also give the gift of 'SELF' during a crisis, just being there for them.
4. Acts of Service– Doing things to make your mate's life easier: whether by taking out the trash, making their lunch, picking the kids up from school or practice.  It doesn't have to be all the time, in fact, if you do something all the time it  tends to lose the specialness to it.
5. Phyiscal touch– A hug, rub on the arm as you pass by, a gently kiss before they leave the house.  Anything as long as you make physical contact.
This book is great! I just summarized some key points for you, but this book is full of useful information.   At the end of the book, there is a quiz for you and your spouse to take, so that you can truly find out what love language appeals to you and your spouse the most.  I would definitely recommend buying this book if you want to rekindle that spark you once had in your marriage. The spark dies because we stop investing in each other, we stop speaking each other's love language.
Challenge: Who do you love?  Where are you spending your TIME and MONEY? Do you care enough about your marriage to find out your mate's love language?  If you can't afford to buy the book, simply ask your mate "What can I do to make you feel more loved by me?"