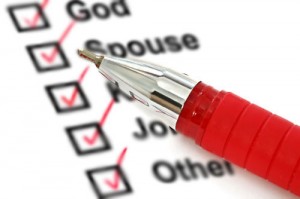 We all understand that emergencies arise on occasion, but this should not prevent us from  following God's priorities for the Christian Marriage on a daily basis. Have you ever spent no time with the Lord before the morning gets busy only to reflect at night and ask God why we are left with a feeling of accomplishing very little if anything at all?
Our marriages (and subsequently the entire family unit) operate decently and in order when we follow God's priorities.
Personal Relationship with God
Family (1.Spouse, 2. Children, 3. Extended Family)
Job
Other Activities
If we do not establish these priorities in our Christian marriage, then the pressures of life have a way of forcing us into becoming reactive to one situation after another.  As we live within the Christian priorities, we can begin to evaluate which new activities should be incorporated or old ones eliminated to better match our guiding priorities.
I do want to highlight the order in which we ought to meet the needs of our families.  The marriage divorce rate could be lowered if we understood the following key principle.  God designed the Christian Marriage as a foundation upon which a happy and healthy family unit could thrive and be successful.  The kids do not come first!
One day I asked my wife, "Why do you insist on focusing on the children during a time when we obviously should be discussing a much more important issue? She responded, "Because I just don't want to talk about us right now".
How often does this answer accurately describe each of us? Whether we are willing to say it or not.
Moderation Is  Key
If you have been around the Christian language long enough, you have probably heard the familiar phrase "Moderation in all things".  As we more deeply study the Bible, it is very important to clear up a general misunderstanding.  This exact phrase does not exist in the Bible.  This commonly quoted phrase is taken from Aristotle's Doctrine of the Mean.  The closest you'll come in scripture is what Paul writes to the church at Corinth:

1 Corinthians 9:25 (King James Version)
25And every man that striveth for the mastery is temperate in all things. Now they do it to obtain a corruptible crown; but we an incorruptible.

In our attempt to operate within the Christian marriage priorities, moderation will be necessary.  We cannot spend all day consumed in any one activity under a given priority.  As Christians, we must even be careful in our participation of Church activities to the extent that we begin to neglect our families.  There are many positive fellowship activities in most Christian churches, but these offerings must be separated in our prioritizing from the Worship services.  It is God's will that we tend to the needs of the families that He has blessed us with as well.
ChristianMarriageHQ Challenge:  Write down a typical week schedule for yourself.  If the highest priorities are not reflected now, make the necessary adjustments.  Be intentional, circle at least 1 week day and 1 weekend day that you will religiously follow this routine.  Reflect on your feelings regarding your productive before bed.