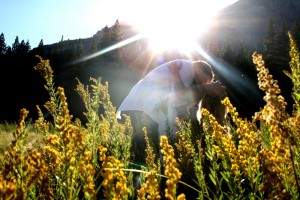 Too many Christian marriages are being destroyed because couples feel the need to go outside of their marriage to have their needs met.  We have heard time and time again about the woman who had "everything" (good husband, a family, a good job, nice house, etc), but they gave it all up for someone who simply made her feel desired.   The fact is, every married woman desires to be loved, whether she is within a Christian marriage or not.
"My lover spoke and said to me, Arise, my darling, my beautiful one, and come with me." Song of Solomon 2:10
I know that men have been trained to hold their feelings inside, but that does not work in marriage.  We need to know how you feel about us.  If you want to bring out the best in your wife you must be willing to communicate the way you feel about her through words and deeds.
In the movie "Coming to America", a prince is pressured to choose a bride by his father.  The women pre-select for him are literally willing to do anything just to be his Queen.  One of the young ladies went as far as to hop on one leg and bark like a dog because the prince asked her too.
The ladies, in the movie, had a different motive for doing anything he asked them to do.  They wanted to be Queen!  My husband would often joke that he would like me to be as enthusiastic about serving him as these ladies in the movie.  The truth is, when a women feels that you are loving her entirely, she will be willing to do whatever you ask of her.  The choice is yours!  You can either have your women serve you out of responsibility or simply because she is eager to bring you happiness too.
So how do you bring out this excitement in your wife?
1. Words of Affirmation– Be honest with her, give her a compliment when you feel she is worthy of one.  Do not give her a fake compliment!  She will be able to tell when you truly believe what you are saying.  Look for opportunities to express your affection toward her.
If she looks beautiful, tell her.
When she cooks a great meal, tell her.
If she does something nice for you, acknowledge it.
2. Treat her like your Queen– Chivalry is never out dated!  Every women wants to have her husband treat her with tenderness and love.
Open and close the doors for her, not just on date night, but every time you get in the car.
If you can see that she needs a hand with something, help her.
If she works outside of the home, during the winter warm her car up for her.
Challenge:  Do you remember the way you treated your wife when you wanted to win her heart?  However you treated her then, use those same techniques now.  For this week, treat your wife like you are trying to win her heart.