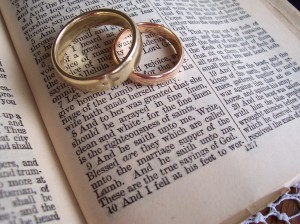 Every spouse within a Christian marriage has taken a vow to one another and to God.  Sometimes when we are angry with one another we can forget about the vows we have taken.  I believe the reason we forget or deem them breakable is partly due to the fact that we have forgotten that our vows were first to the Lord.
"Again, you have heard that it was said to the people long ago, 'Do not break your oath, but fulfill to the Lord the vows you have made." Matthew 5:33
The vows that we have taken have absolutely nothing to do with our spouse.  The institution of marriage was created by the Lord.  His desire for us is to marry one another if we are in love. " But if they cannot control themselves, they should marry, for it is better to marry than to burn with passion. " 1 Corinthians 7:9 Yes, we are marrying them but our covenant is first to the Lord.  So keeping our vows should not depend on our interaction with one another.
If we relied solely on our relationship with one another it would be hard to keep our vows.  When  two imperfect people are trying to work together as one there is bound to be some friction. Our spouse is human just as we are and from time to time they can make us angry.  We can find ourselves in a situation where we are wondering why we got married.
When in fact, we married with love in our hearts and the expectation that it will be forever. I believe most people get married believing that the feeling they have toward their spouse could never change. So we marry, and we get used to each other and then life sets in.
Now our relationship faces a new set of circumstances that will either pull us together or tear us apart. For example, finances, children, in-laws, our jobs. Those are just a few examples that I can think of that could impact our marriages greatly, positively or negatively. Marriage is like anything else it requires that we work at it.  I am not sure why some people believe that love is not something that could or should fade but it can.
The "feeling" behind love fades when people change and their spouse does not change with them. This is where many marriages fail because what used to work for the marriage no longer works. But our marriages do not have to fail as long as the desire to work at it is there, and we remember that the vows that we have taken are first to the Lord.
Challenge:  The next time your Christian marriage appears to be lifeless.  Take a moment to yourself and pray to the Lord.  Remember that the vows you have taken are first to God.  Ask God to make you strong enough to keep the vows that you have taken to him. "Again, you have heard that it was said to the people long ago, 'Do not break your oath, but fulfill to the Lord the vows you have made." Matthew 5:33 Once we realize that our vows are to God, someone we can trust to remain faithful to us.  Keeping our marriage vows should become a little easier.