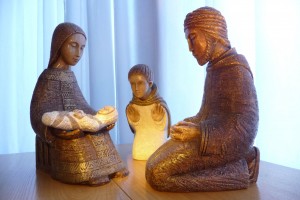 Tis the season for our Christian marriage to flourish and spread the gospel.  Now is the time when most people try to attend church.  During the holiday season, most churches are full of new people who reverence the Lord enough to go to church for this holiday.  We as Christians ("followers of Christ") should thank God for the opportunity to spread the gospel to people that have open ears instead of becoming irritated by the limited space available in our row.  I know it is difficult to spread the gospel to people we meet in passing .  We have to fight the fears that arrive in our thoughts.  "What if they don't care about hearing about God?" or "I don't want to be the annoying Christian that is always trying to jam the gospel down a non-believer's throat."
There is never a more perfect time to talk to a new face about God then right now.  We are not going out pestering anyone, they are coming straight to us, so use this opportunity to talk to them.  Ask them questions, "So are you from around here or are you just visiting family?  If they are from your area invite them to attend again.  You may even want to exchange numbers or email addresses.  Remember you are not forcing your belief on them, you are merely helping them to make a decision whether they are going to serve God all year round or just one Sunday.
The point isn't to condemn them for not worshiping God more regularly.  Our goal is to express to them that God loves them and wants to hear from them more than just this Sunday.   However, let's just begin by getting to know them.  Ask non-invasive questions and show them that you care about them and their future.  If you are still finding it hard to come out of your comfort zone and talk to others about God, than start at home.  If anyone should understand the meaining of this season, it should be us Christians.  Don't fall into the trap of telling your kids that it's Santa who brings the gifts.  Tell them the truth!  The real Santa is God, he is the one that has provided for these gifts.
"Every good gift and every perfect gift is from above" James 1:17
Give your children something they can believe in forever.  Let them know there is a Santa Clause, but his name is Jesus Christ.  Our children are never too young to hear the truth.  Take advantage of this time and spread the gospel as much as you possibly can.  Even after Christmas is over and everyone is going over how their holiday went.  Bring up how lovely the church service you attended on Christmas morning was and ask them if they went to church or what they believe in.  This will let you know which way the conversation should go.  If they are wavering on what to believe in, you can invite them to your church.  If they have a different belief, you can begin to pray for them more specifically.
Challenge:  Use this holiday season to tell others about Christ.  Make an effort to bring up your church, God or a reference a scripture in conversation with a non-believer or someone that you are unsure what they believe in spiritually.