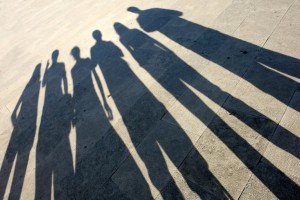 How many of us have heard this phrase before?  " Birds of a feather  flock together."  My dad quoted this phrase a lot throughout his years of parenting me.  He would say "people hang out with people they are  like, if you are not like them right away in time you will be."  Even though this phrase is often spoken to children to guide them into choosing their friends wisely, adults could also benefit from this wisdom.
As adults we have a harder time making new friends because we already have friends from grade school, high school maybe even college.  When we are younger we find people we feel comfortable being around, and then we keep them forever. I have heard females say, " friends come before a man! They were here before him and they will be here after him."   How is it, that we can stay friends with friends forever, but somehow it is possible for us to outgrow our spouse? The truth is, just like couples can out grow each other so can friends especially friends that have taken different paths in life.
If our marriages are going to be successful we must let go of some of our old friends that are no longer like minded.  We must realized that they served their purpose, which was to get us through a particular period of time in our life.  We must now select friends that can encourage us with the vow we have made to God and our spouse.  There is one simple way that we can encourage our marriages and that is by having  friends that are like minded. 
"not giving up meeting together, as some are in the habit of doing, but encouraging one another—and all the more as you see the Day approaching." Hebrews 10:25
Too often we rely on one big event as a source of encouraging our marriages whether it is a scheduled vacation, or a marriage retreat.  Having scheduled events  are great, but they come too far in between to rely solely on this as our method of encouraging our marriage.  The key to having a strong marriage is having a great support system.  Here are three tips to having a more successful marriage.
  A personal relationship with God.  He is our ultimate best friend.  Spend time reading his word daily, I have found that my day goes better when I spend time with the Lord before I do anything else.
Become  best friends with your spouse.  We have taken a vow to be with them until death do we part, shouldn't we at least enjoy this long commitment with our best friend?
There are two decisions that we make in life that have the ability to effect our lives forever.  Who will be our God and who will be our spouse.  Make new friends that will benefit your lifelong commitment.
Challenge:  Examine your friends.  If you and your friends are no longer like-minded, you need to decide what is more important.  The lifelong commitment you vowed to God and your spouse or your old friends.  It is not possible for a married women or man to receive wise console about marriage from an unmarried person.