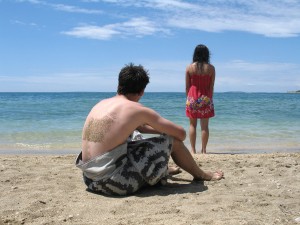 We have the opportunity to view the trials we face within our Christian marriage as a chance to grow closer to God or distance ourselves from Him.  Our desire as followers of Christ is to have an intimate relationship with God, one that allows us to completely trust Him while we walk in His word.   However, I know trials have the potential to make us question, where is God?  The only way our Christian marriage can stand firm in the midst of the trials we face is to read the bible and pray.  When we make a conscious decision to trust God regardless of what our circumstance may appear to be He will bless us.
James 1:12
12 Blessed is the one who perseveres under trial because, having stood the test, that person will receive the crown of life that the Lord has promised to those who love him.
Have you ever gone through something that made you completely rely on  God?  This past year has been very interesting.  Jonathan, our families only source of income has been unemployed and my mother is on life support.  Yet, through it all I have never felt closer to God in my whole life.  It is amazing how the Lord will use our pain to bless us if we abide in Him.
The Lord has given me a pair of spiritual eyes, I no longer see my trials as an attack but rather a preparation period for where the Lord wants to take our family.  Praise God!  Let me take a moment and praise God for His goodness. Throughout this past year the Lord has used Jonathan's unemployment to:
Strengthened our relationship with Him as we trust Him to take care of our needs and some of our wants
strengthened  our marriage
grow closer as a family
give Jonathan a chance to focus on his professional goals
The Lord has also used my mother's circumstance to bless my extended family:
We have spent more time as a family throughout this past year than we have in many years
individually, our relationship with God has become more intimate as we draw on Him for strength
I have been given the opportunity to witness to many while visiting my mother
The trials we face are only temporary but they have the ability to impact us indefinitely.  We can choose to see the glass as half full and praise God for his faithfulness or the glass as half empty and become angry at God for not preventing our trials.  Regardless of how we decide to view our trials, one thing is for sure, our trials are still going to be there.
Happiness is a choice. Everyone is going through something .  How are you dealing with your trials?  The bible says that there is nothing new under the sun. ( Ecclesiastes 1:9)  This means that anything we could possibly be facing right now, someone else has already gone through it. If they made it through their trying time you will make it through yours as well.
Challenge:  Decide today that you will trust God. Look at your circumstances as something that is temporarily.  What can you learn from it?  How have you grown from this experience?