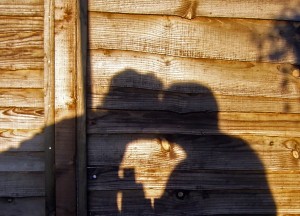 Marriage does not come with instructions. The only tips we may receive about marriage are given to us the day we are married by other married couples.  Which usually include sayings such as these; "She's always right." "Ignore the little things" and "You have to pick your battles." These sayings do not prepare us for marriage.
We have all been given last minute advice about marriage.  The tips can come from people who are happy in their marriage, people who are not happy in their marriage, and people who are just repeating non encouraging beliefs as a way of conversation.  Before Jonathan and I got married we took pre-marital counseling classes, and yet, we still face challenges in our marriage. So there is no way to avoid struggles in marriage.  We have to take marriage and life one day at a time.
The truth is nothing can prepare you for marriage, because no one knows what obstacles you'll face in marriage or how you will handle the challenges when you are faced with them.  People can only give tips for what could happen.  I haven't heard anyone give advice on how to have a satisfying marriage while you face challenges.  Struggles are inevitable, everyone will have them, but you don't have to end your marriage because of them.  I truly believe that divorce is a test of your faith.
The excitement will die down.  The warm, fuzzy feelings will go completely away.  However, your marriage doesn't have to end because those happy moments are no longer present.  Let me explain!  There are ways to have a happy marriage and become best friends with your spouse. Having a marriage full of love, has nothing to do with the way you feel.  It is possible to have a loving marriage once the romance has died, because LOVE IS NOT ABOUT FEELINGS!
Growing up, I have often heard my dad say, "It's not about how you feel."  I was surprised to hear the counselor say a similar saying in the pre-marital class he offered.  He said, "You can fake your way back into loving your spouse."  He went on to explain that love is not a feeling, it is an action.  Then we got married and it all made sense.  Those warm feelings come and go.  The only problem with our feelings is that, when we are happy in our marriage- we are still married.  When we are not happy in our marriage- we are still married.  If you want to save your marriage but it seems impossible, it's NOT.
Love is an action, not a feeling.  You can act your way until you find yourself satisfied in your marriage again.  Take the focus off of what you don't have in your marriage.  It is time for a new plan. Doing the same thing, expecting a different result is insanity.  It's time to try something new.  If you're interested in making the most out of the life commitment you agreed to then try the 4 tips below.
Get involved In Your Marriage– If you want the feeling of love back in your marriage, it begins with an action. Love Is An Action!  "For God so loved the world that he gave his one and only Son, that whoever believes in him shall not perish but have eternal life." John 3:16 Make a list of all things you once admired about your spouse.  Remember what you did during the time you felt the two of you were in love.  Have you stop those acts of love? If so, could that be part of the reason the "feeling" of love is gone? If you once opened the door for her, surprise her, and open the door for her today! If you used to pack his lunch for work, pack him lunch today and include a note that says "thinking of you." Get Involved Again.
Prayer Changes Things and People– Pray for you and your spouse. You'll find that when you start praying for your spouse it will draw you closer to them.  As you pray and pour out your heart, God has a way of rekindling the love in your heart toward your spouse.  Make praying for your spouse something you do regularly. If you can get your spouse to participate with you that would be even better.

"For where two or three gather in my name, there am I with them." Matthew 18:20

When you begin to pray God will restore your marriage.
Speak Positively Over Your Marriage– Our tongue is very powerful. "The tongue has the power of life and death, and those who love it will eat its fruit." Proverbs 18:21 God spoke the whole world into existence, and said he created us in his image. If God had the power to create the world through words, and we are in his image, how much can your marriage become affected through your words? Purpose yourself to only speak encouraging words about your spouse. Remember, LOVE IS NOT ABOUT FEELINGS.  Resist the urge to tell them what they have not done. Tell them when you appreciate something they have done.  If you have a busy schedule, try writing a short note to them with words of appreciation.  Leave it where they will get it. A few examples of places you could leave it are; a suitcase, on the driver seat of the car they drive, in a lunch bag.) It is possible to have a happy marriage and become best friends with your spouse!
Feed Yourself Spiritually– The key to succeeding in our marriage is to understand that we need God to make it work. John 15:7 says,

"If you remain in me and my words remain in you, ask whatever you wish, and it will be done for you."

If we stay connected to God, He will answer our prayers concerning our marriage. He is the glue that holds our marriage together and He is also the only one who can ultimately show us how to enhance our marriage. God has the perfect plan for your marriage. He knows you and your spouse completely and He knows what needs to happen in order for your marriage to be turned around.  The more challenging your life, the more you need to stay in the word (read the bible.) Try to make time to spend some alone time with God. You can read the bible, pray, listen to Christian music, or even select a scripture verse that you will think on for the day.  The scripture verse, Romans 8:8 is probably a good verse to begin mediating on.
www.christianmarriagehq.com Challenge: It's time for a change!  Some things are not best being left in the past, and having a loving marriage is on that list. The commitment we made to be together forever is too long not to enjoy it. You have the right and the power to get the love back in your marriage. God is love and He showed his love for us by giving us His son. Get the love back in your marriage. The process of restoring your marriage begins with ONE ACTION.