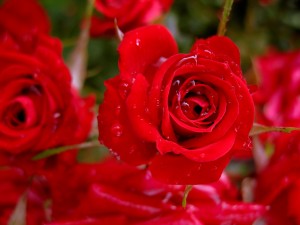 It is February and love is in the air!  In just a few days many people will go out of their way to express their love to those dearest to their heart.  Some people feel that Valentine's Day is just a commercialized holiday.  Some people believe that it is a day to intentionally show your love toward another person.  Regardless of what you believe, the truth is, many people will take part in the love fest on February 14th.  I want to take a moment to remind us all of what love really means. 
1 Corinthians 13: 4-7
 "Love is patient, love is kind. It does not envy, it does not boast, it is not proud. 5 It does not dishonor others, it is not self-seeking, it is not easily angered, it keeps no record of wrongs. 6 Love does not delight in evil but rejoices with the truth. 7 It always protects, always trusts, always hopes, always perseveres." 
If you love someone, why not join the masses of people celebrating this holiday?
For those of you who are already planning on taking advantage of this day, I have a suggestion for you.  Something I believe that will add excitement for you and your lover.  We know from a previous post that women want to be loved, and from another post that men want intimacy.  Before you form in opinion, I am not saying that men do not want love.  I am suggesting that most men would be happy if they were satisfied sexually within their marriage, even if she didn't say I love you frequently. So, what is my suggestion for you?  Why not make both of you involved in the planning of this special day?
Give each spouse a role in planning the date.  It should not be left entirely to one person.  It takes two people to be in love, so, I believe two people should help express the love.    The husband should plan a romantic date for the two of you.  Now before you say, how is that any different, let me finish! The wife will be in charge of planning the evening part of the date (the intimacy.)  How is this any different?  Well, for starters it gives everyone a role in making this day wonderful.  Each spouse should do their very best to demonstrate their love.
Really think about your spouse's needs.  What can you do that would take them over the top, romantically for the husbands and intimately for the wives? You may even decide to make it more interesting by competing. Who can do the best job at expressing their love?  There is nothing wrong with competing with your spouse in this way.  The end result is fun planning a date and eventually having a wonderful day with your spouse. Don't be afraid to spruce it up a bit!  Marriage is what you make of it.  It can be a lot of fun or it can be very dull.  I realize Valentine's Day is just a few days away and you may have already started planning what you are going to do.  Here's the good news! It isn't too late to take part in this challenge. 
It doesn't require a lot of advance planning on the wife's end.  She doesn't necessarily have to reserve a location she just has to get creative.  So, in a way it kind of gives the men an advantage if you have already started planning the date. Don't be afraid to mention this to your wife. Chances are your wife wants more excitement as well, and this may be what she needs to get motivated, the two of you agreeing to intentionally try harder to make your marriage more fun!
Challenge: Love takes two people. Give each person a role in planning a wonderful Valentine's Day.  Husbands plan a romantic date and wives plan an adventures evening intimately.