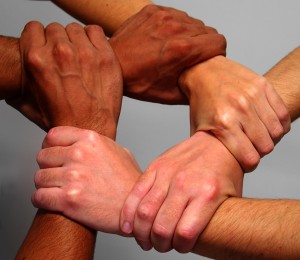 Many of us invest too much time and energy trying to fight what people believe to be true about us.  Or what they are saying about us.  Today I am telling you, stop fighting your enemies.  One of my favorite television evangelists to listen too is T.D. Jakes.  I would like to quote something he said that has freed me from what people believe about me and I pray it does the same for you. "What people think of you is none of your business."  It is their thoughts. You do not need to know their thoughts and they do not need to know what you are thinking. Stop worrying about what people have said, are saying or will say about you.
If what they are saying about you is true, and it bothers you, change something! In Proverbs 10:17 the bible says "People who accept discipline are on the pathway to life, but those who ignore correction will go astray." Stop being offended by things that are true about you.  If it bothers you, it is because you need to do something about it.  Invest your time into changing the less desirable things about you.  It is easier and more effective to change yourself.  You could spend a life time trying to change what people believe about you.  Some of the things people are saying about you are not true. Your first thought could be to make the truth known.  However, even still, stop fighting it!
Today while I was studying the bible I came across a scripture verse that sparked the idea for this post.  I was reading Proverbs the 19 chapter.  While I was reading it I noticed that one verse was repeated twice in verse 5 and 9, "A false witness will not go unpunished, and whoever pours out lies will not go free." Do not fight lies! God will deal with those who are spreading false things about you. Do not worry about the people who believe the false witness from your enemies.  If they can easily believe negative things about you, you do not want them in your life anyway. 
See this as an opportunity from God, he is showing you the people you can trust.  I say this to you as I say it to myself.  You are destined to be great! Great people are great because they are surrounded by people who believe in them.  God is revealing to you the people that cannot handle the greatness he has placed inside of you.  Let them go!
Challenge:  Stop wasting time fighting the rumors about you!  What are some things you know you need to change, so that YOU can be satisfied with YOURSELF?  The false witness from your enemies will not stop God from blessing you, and in the end, God will deal with those who have spread the lies.