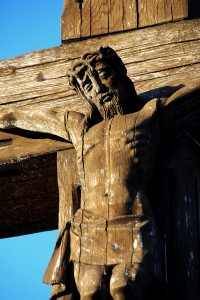 The Easter season is a wonderful time for everyone it is full of beautiful colors, candy and games.  This is also one of the few times of the year that most people attend church even if they are not "religious."  For those of us who are Christians we understand that Easter is about much more than eggs, baskets, and family gatherings.  Christians have an additional benefit for celebrating this holiday season.  This week is when Jesus was crucified for our sins and rose so that we may have everlasting life.
As Easter Sunday approaches I would be remissed if I didn't talk about our Lord Jesus the Christ and the love that he had for all of mankind.  Jesus suffered humiliation, being mocked, abuse, and death all because he loved us. Even as he hung on the cross His love for us spoke volumes as he  prayed for us and those who were killing him.  When Jesus died, He left a legacy that He was, who He said He was.
 44 It was now about noon, and darkness came over the whole land until three in the afternoon, 45 for the sun stopped shining. And the curtain of the temple was torn in two. 46 Jesus called out with a loud voice, "Father, into your hands I commit my spirit."[e] When he had said this, he breathed his last. 47 The centurion, seeing what had happened, praised God and said, "Surely this was a righteous man."  Luke 23: 44-47
One day all of us will depart from this Earth and will spend eternity somewhere, in heaven or hell.  We will leave behind family, friends, and a legacy of the life we lived.  After many years people are still remembering and rejoicing in the love that Jesus had for all of mankind.  He is remembered as the son of God that has given us hope in life after death.  He is worshiped and praised everyday by many and is remembered for His love.
What will be your legacy?  The fact that you are reading this article means that God has given you another day and another chance to change.  I once heard a preacher say, " When God has given you the grace to change, just change."  This simply means, if God has revealed to you an area of your life that needs to change and has given you another day to do so, then make a change.
Challenge:  Take a moment to give some thought to a few questions and then  answer them honestly.  No one has to know your thoughts but you. If you find that you do not like your answers to the questions below, you still have time to change.  As long as you are alive you have time to make the necessary adjustments so that you leave behind something worth remembering.
What kind of life are you living?
How will you be remembered? 
Will people be able to say that you lived a selfless life?