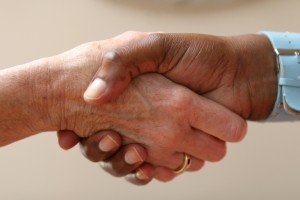 Many of us have used our youth wisely as we were instructed to do by the Lord, but we find that our Christian marriage is not prospering as much as we believe it should be by now. Why?  Didn't the Lord say that "whatever we put our hands to will prosper?"  The interesting thing about God is that he has no favorites.  God will bless anyone who is working hard, however ,if you include him in your process of working hard He will multiple your harvest.  "God's ways are higher than our ways, His thoughts are higher than our thoughts" ( Isaiah 55:9).  Most of us have heard the saying "Think smarter, not harder."  Well, when we include God in the process of reaching success He will reveal to us a smarter way of doing things that will ultimately produce a greater harvest.
Is there a circumstance in your life that is weighing you down?  This could be difficulties in your marriage, a hostile work environment, a wayward child or simply weariness.  God has given us a couple of  tips that guarantee success in every area of our lives.
1. Be careful of the company that we keep–  Psalms 1:1
1Blessed is the one
who does not walk in step with the wicked
or stand in the way that sinners take
or sit in the company of mockers,
Do not put yourself around people who are not following God.  The old saying is true, " Birds of a feather, flock together."  The longer you stay around someone the more likely it is that you will pick up on some of their habits. You do not want to lose the fellowship you have with God because the only way you can be successful is if God is with you.
2. Read your bible often–  Psalms 1:2
2 but whose delight is in the law of the Lord,
and who meditates on his law day and night.
God has multiple ways of speaking to those who are following Him.  God  may speak to us through dreams, during prayer, through other people. The only way we truly can be sure that it is God's voice that we are hearing is to spend time reading the bible.  The more time we spend with God the better we will know his voice. 
God has given us a condition for how successful we will be, if we want to prosper we must be careful to avoid spending time with unbelievers and mediate on His word by reading the bible.  God has said a person who can adhere to the guidelines above will prosper. Psalms 1:3
3 That person is like a tree planted by streams of water,
which yields its fruit in season
and whose leaf does not wither—
whatever they do prospers.
We do not have to worry about nonbelievers who seem to be prospering more than us, because it will not last. God will raise up His people and "we will be the head not the tail"(Deuteronomy 28:13). Psalms 1:4-6
4 Not so the wicked!
They are like chaff
that the wind blows away.
5 Therefore the wicked will
not stand in the judgment,
nor sinners in the assembly of the righteous.
6 For the Lord watches over the way of the righteous,
but the way of the wicked leads to destruction.
So, how do we prosper? Avoid people that will not encourage us walking by faith and spend time with the Lord often.
Challenge:  Access those who are dearest to you.  Is there anyone who is not a believer that you find yourself spending a good amount of time around? If you truly desire for God to bless you, you must be obedient,  "To whom much is given, much is required" ( Luke 12:48).  Distance yourself from that person and begin to pray that God will reveal Himself to them.  If your connection to that person is strong, pray, every time you get the urge to be around them and God will break the bond you have to them.  Remember, anything that causes you to pray is a good thing!