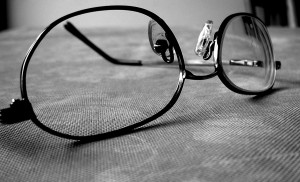 In a previous post, I explained how important it is to have a vision for your home.  My son reminded me of the significance of having a vision while I watched him play outside.  For Christmas the Lord blessed us enough that we were able to get a Barbie power wheel for our girls to share and a jeep power wheel for our son.  There is a church directly across the street from our house with a huge parking lot.  When the weather is nice we allow our kids to drive their cars in the church parking lot.  In one small corner of the parking lot there is a dip in the concrete.  This small hill is so much fun that my son does not even bother with the rest of the parking lot.  He will literally drive in a circle the entire time, going down the hill and circling around to go back down it again.
As I watched my son drive in a complete circle for at least 45 minutes, I thought to myself" He has the entire parking lot and he is satisfied with driving around and around in a complete circle."  Then this scripture verse came to me.
"You have made your way around this hill country long enough; now turn north." Deuteronomy 2:3
This was God's command to Moses and the Israelites in Deuteronomy, after they had wandered in the wilderness for forty years.   The reason they wandered for forty years was due to their disobedience, complaining and lack of faith in God.  God told the Israelites that he would deliver the Amorites into their hands.  They sent 12 men to spy on the Amorites and 10 of those men came back with fear in their hearts, and their lack of faith was passed onto the others.  Their lack of faith then turned into complaining, "The Lord brought us out of Egypt to be defeated by the Amorites."
The Lord finally responded to their lack of faith and complaining by saying that they will not enter into the promise land, only the children who do not know right from wrong will enter the land.  When Moses told the people that God will not let them into the promise land because of their lack of faith they immediately believed that God could deliver the Amorites into their hand and they were ready to fight them.  However, it was too late; God already decided they would not enter the land.     Ignoring the warning of Moses that God will no longer help them defeat the Amorites they adorned themselves in their battle clothes and went to fight the Amorites anyway.  Needless to say, they did not win that battle.
My son just like the Israelites found himself circling around a mountain, when in reality God had more in store for each of them.  Fulfilling our purpose in life is not going to be easy but we can rest assured that it is obtainable if God has ordained it to come to pass.
Whenever we begin to walk out the vision God has given us we can expect trials to come upon us.  The plan the Lord has for his children is great and the enemy knows that if we were to fulfill our purpose on Earth, there would be few people for him to take with him to hell.  Satan has no power over us, only the power we give to him.  He will not be able to stop us from fulfilling our purpose but he can put stumbling blocks in our way, hoping that it will deter us from bringing them to pass.
Stumbling blocks are not always bad; a stumbling block could be a good job that takes care of all your bills which may leave you content with where you are in life.  When in reality God has already ordain for you to have your own company, more work, but in the end you will be the head and not the tail.  The Israelites found out the hard way, they thought that the Lord would help them once they were on board with His plan.  God has something great for all of us but He is will not wait around forever to give it to us. We need to trust God and do what he has placed inside of us, in 1 Samuel 15:22 the bible tells us "To obey is better than sacrifice."
Challenge:  If God gave you a vision for your life He is more than able to help you bring it to pass.  What vision has God given you for where he wants to take you?  Pray and begin to work toward the plan God has for you.