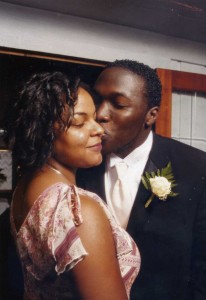 In multiple places of business you may find the following quote near the exit: "Silence is golden."  Why is silence golden?  The bible tells us in Matthew 12:33 "Make a tree good and its fruit will be good, or make a tree bad and its fruit will be bad, for a tree is recognized by its fruit."  We do not have to announce what we stand for because our actions will speak for us.
People in various stages of their relationship have been very impressed with the commitment that Jonathan and I have shown toward having a great relationship.  Our decision to keep our relationship in its' rightful priority has sparked a desire in others to nurture their own relationship as well.  The central point of our relationship has always been to put God first, and then how can we enjoy our relationship. 
Jonathan and I knew that we wanted to get married when we were in high school.  We also knew that marriage was forever.  We decided back then that we wanted to work on having a great relationship so that we would enjoy the rest of our lives together.  When people speak about marriage it is often spoken about in a negative way.  We were determined to have a different marriage.  We didn't want to become like so many others who were "just" married.
The length of how long someone has been married doesn't always attest to the quality of their marriage. There are still a few people left who are committed to keeping their vows even if they are no longer "happy". You may have witnessed people who have been married for a long time, but you are not sure why they are still married. We witness relationships like this all the time especially in public places.  I'm sure you have seen the couple having dinner at a restaurant, but they are not even talking to each other.  In fact, they are admiring the couples who are laughing and enjoying themselves.
This is the  type of relationship that Jonathan and I refuse to have happen to us.  We have always believed that God designed marriage to be a benefit not a stress.  Happy married couples are becoming nonexistent and you may be wondering How Could Everything Change So Drastically within your own marriage simply remind yourself of the vows you have taken.   The vows that we have taken are first to God and then our spouse. Hopefully that alone can encourage you to work toward a better marriage, but if that doesn't help, try to think of all the marriages you could possible save just by enjoying your own marriage.
The elders in my church would say, "You may be the only bible, some people are reading." That was their way of saying to the younger people, behave, because you never know who's watching you and how much influence you can have on them. I believe the same can be applied to your marriage, you may be the only happy married couple someone has encountered.  It is rare to find people who are trying to do things God's way. If you live so God can use you and enjoy your marriage, then God's true design for marriage will be reflected.
Challenge:  "Make a tree good and its fruit will be good, or make a tree bad and its fruit will be bad, for a tree is recognized by its fruit."  What kind of fruit is your marriage producing?  If you want a better marriage you must change the seeds that you are planting.