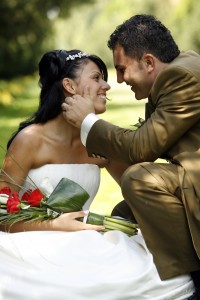 Most of us are striving to love our spouse the way the bible instructs us to love in our Christian marriage.  The way the Lord described what love is in the bible, it almost seems impossible for us to love anyone that way.  God set a standard for us so that we have something to work toward, do not beat yourself up if you fall short from time to time.
For years I believed I knew how to love.  I grew up in a blended family, and we rarely ever got along.  However, whenever we needed each other we were all always there for one another.  Our family saying was " this is the only family we have."   That was our way of saying that we may not get along that often, but we should be able to count on each other when the time calls for it.
I grew believing that love was just being there in a time of need for someone.   I later found out while studying the bible for myself that there is so much more to what love really is.  When I met my husband, who was also raised in the church, he opened my eyes to a new meaning of love.  No matter how I treated my husband he was always patience with me.  I remember the first time we had a disagreement over the phone. I did not want to talk anymore, I was angry, so, I hung up the phone on him.  I actually thought it was funny, until he called me back.
I was so shocked, I thought for sure he would not speak to me for days.  When the phone ringed I figured he probably wanted to yell at me. I was curious about what he had to say, so I answered the phone. You can imagine my surprise when he called me back, calmly.  My husband (who was my boyfriend at the time) said " Nikki, that is not how you handle conflict.  If we are going to have a great relationship we have to learn how to work things out."
I can honestly say for as long as my husband and I have been together ( high school, and college sweet hearts)  that he has always loved me the way the bible defined love.  This is what the bible says:
"4 Love is patient, love is kind. It does not envy, it does not boast, it is not proud. 5 It is not rude, it is not self-seeking, it is not easily angered, it keeps no record of wrongs. 6 Love does not delight in evil but rejoices with the truth. 7 It always protects, always trusts, always hopes, always perseveres.  8Love never fails." 1 Corinthians 13: 4-8
The Lord tells us what love is in his word, so we know the charactertistic traits we must learn in order to truly love our spouse.    There are a few actions that we can take that will show our spouse that we love them even more.  In a previous post " Who do you love?"  I offer two techniques that will make your spouse know you love them, even when your character traits fall short.
Challenge:  Reflect the real meaning of love in our Christian marriage.  Loving your spouse according to the Lord's standard is hard, I know, I am still trying to love this way.  The best way to tackle this scripture is to break it down.  Start by working on one characteristic at a time.  Start by being patient with your spouse for the rest of this week.