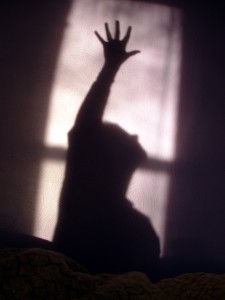 There are a few things that our marriages could learn from children, for example, how to relax!  Yesterday my children and I were outside enjoying the nice weather.  I normally play with them but this time I felt like relaxing.  I put my hood over my head and laid down on the ground looking up at the sky.  The clouds were so beautiful. I watched as the clouds moved and changed form.  Rarely do I ever get a chance to sit down without one of my children climbing on me, so this was very relaxing for me.  After a few minutes my youngest daughter came over and sat on my stomach.  She wasn't bothering me, she just wanted to sit down.  I continued to watch the clouds.
A few more minutes had gone by, my oldest child came over and sat on my stomach.  She is a bit heavier than my youngest but I didn't want to make her get up.  I wanted to be fair, I allowed my youngest to sit on my stomach for a few minutes, so I decided I would let her sit on me for a few minutes as well.  I tried to enjoy the clouds but it was not the same. All I could think about was how much weight was on my stomach and suddenly something that was so peaceful and beautiful was no longer enjoyable.  The clouds had not changed, they were still there moving and adjusting their form but my circumstances had changed.  I waited a few more minutes and then I asked everyone to get up, I couldn't take it any longer. I am so thankful that my son did not want to sit on me as well!
This reminded me of our Lord and Savior Jesus Christ.  In Corinthians 10:13 the Lord tells us that he will never put more on us than we can bare.  No matter what you are facing right now be it unemployment, health issues, marriage problems, a wayward child whatever it is know that if God allowed you to face it, He knows you can overcome it.  This reminds me of a quote I read when I was in college:
"If God brings you to it, he Will bring you through it.
Happy moments, praise God.
Difficult moments, seek God.
Quiet moments worship God.
Painful moments, trust God.
Every moment, thank God."
The weight of our troubles may feel unbearable and it may be hard to see God working it out for our good.  In Hebrews 13:5 the word tells us that "God will never leave us nor forsake us."  Whatever you are going through remember that although it may be hard to see God in the middle of your problems, He is still there.  It doesn't mean that what you are facing doesn't bother you, it simply means, that you trust that God is with you through it all.
Job 23:10
10 But he knows the way that I take;
when he has tested me, I will come forth as gold.
Whenever I wanted to look at the clouds all I had to do was look up.  Have you allowed your circumstance to take your eyes off of the Lord?  Trust God.   " For I know the plans I have for you," declares the LORD, "plans to prosper you and not to harm you, plans to give you hope and a future." Jeremiah 29:11
Challenge:  Put your hope in the Lord.  He has all power in His hands.  The bible tells us that "God chastise those He loves."  Trust that God  would not allow you to face anything that is not good for you.  He is only trying to make you a better person in Him.  Decide to look at the problem you are facing as an opportunity to grow closer to God.  You may also want to listen to this song, "Be Encouraged" by William Becton.  This song has often encouraged me. May God bless you.